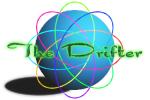 Drifting around the world®


The Drifter : Asia: China


Shanghai: One of the largest city in the world.
Hangzhou: City of the splendid Xihu (West Lake).
Suzhou: City of silk and tea.
Wuzhen: Ancient watervillage, another from Zhouzhong.

© Copyright 2002-4, Gio Info.in.th. All rights reserved.
All trademarks and registered trademarks are belong to the respective owners. Some or all part of this document cannot be redistribute or re-release without any prior permission.